Sunday, November 16, 2014 at 08:59PM

The quantities approved – some 40 truckloads of cement, iron and gravel – are far from sufficient;
Gaza is thought to need about 6,000 tons of cement a day.
http://www.haaretz.com/news/diplomacy-defense/.premium-1.626379#

By Zvi Bar'el Nov. 15, 2014 Haaretz



Palestinian children take cover from the rain as they stand atop the ruins of a house destroyed in the most recent Israel-Hamas conflict, in Khan-Younis, Gaza Strip, Nov. 4, 2014. Photo by Reuters

Alaa Radwan, head of the Popular Committee for Monitoring the Reconstruction of the Gaza Strip, makes a simple calculation: "Given the pace at which construction materials are currently entering Gaza, it will be at least 20 years" before the damage caused by this summer's war is repaired.

The reconstruction is expected to cost more than $4 billion. Ostensibly, the Palestinian government has even more than that available. At a conference last month, donor states pledged $5.4 billion.

Another conference was supposed to be held in Cairo on October 24 at which the donors – with Israel absent – would discuss how to supervise construction imports to satisfy Israel's security needs while enabling rapid reconstruction.

But that very day, a terror attack near the Gaza border killed 30 Egyptian soldiers. The conference was postponed — indefinitely. Soon afterward, Egypt shut its Rafah border crossing with Gaza, also indefinitely, and began demolishing houses near the border to create a 500-meter-wide buffer zone.

The United Nations has since strived to ensure the flow of construction materials into Gaza and has presented a plan for supervising these materials to the donor states, Egypt, Israel and the Palestinian Authority. As a result, materials began entering Gaza last week via Israel's Kerem Shalom crossing, the only one currently operating.




Palestinian youths in Khan Yunis practice their Parkour skills
over the ruins of houses, which were destroyed during the
50-day Gaza war between Israel and Hamas,
November 14, 2014. Photo by AFP

But the quantities approved – some 40 truckloads of cement, iron and gravel (alongside 400 truckloads of other goods) – are far from sufficient; Gaza is thought to need about 6,000 tons of cement a day. Moreover, the supervisory process is so long and cumbersome that it is seriously delaying the reconstruction work.

For instance, anyone whose house was damaged must submit an application detailing the scope of the damage and the amount of compensation sought. Representatives of the UN Office for Project Services, which is in charge of supervising the reconstruction, must then visit the house, reassess the damage, estimate the amount of construction materials needed and send a detailed list to the PA and Israel. The latter must approve both the project and the amounts.

Once Israel gives its okay, the homeowner must sign a declaration that the materials will be used solely to rebuild his house. Only then will UNOPS give him vouchers to buy construction materials from one of Gaza's major dealers.

Construction inputs are transferred to Gaza via a company owned by the PA's Palestine Investment Fund and stored in the warehouses of two major dealers. These warehouses are under round-the-clock supervision by both inspectors and closed-circuit cameras and are protected by high walls built especially for this purpose. Other merchants who seek to obtain material in bulk from these warehouses must agree to similar supervision.

The above requirements are just a fraction of those specified in the United Nations' proposed supervisory procedure. The UN proposal said this procedure is supposed to enable the reconstruction and repair of around 80,000 damaged or demolished houses, as well as various public projects, including infrastructure work, planned by the Palestinian government.

Ostensibly, Israel has nothing to say about the latter. But its ability to approve or reject applications for construction materials means it bears direct responsibility for the pace of reconstruction.

Aside from raw materials, these projects need mechanized equipment like bulldozers and diggers, which are subject to a separate supervisory protocol. This includes installing GPS trackers in the vehicles so their movements can be monitored to ensure they aren't being used to dig tunnels.

Factories that make concrete blocks must install closed-circuit cameras, which must be connected to the Internet and have backup batteries so they can function even during a power outage. Such factories must also install a special computer program to track the quantity of raw materials they receive and the number of blocks they produce.

After installing this expensive equipment, the factory must get a UNOPS inspector to certify that it has met the requirements. The inspector's report is then sent to Israel for final approval, along with the factory owners' names.

Without Israel's approval, the factory can't operate. If it tries to sell its products without it, UNOPS will cease giving it vouchers to obtain raw materials, effectively shutting down production.

And all this is just to repair the houses. As yet, there is no agreement on reviving Gaza's economy. Exporting goods to the West Bank or Arab countries, for instance, requires Israeli permission, and this will apparently be given only to merchants who aren't Hamas members.

Hamas objects to the United Nations' proposed supervisory mechanism, but so far it hasn't translated its objections into action; it, too, wants reconstruction to begin in order to soothe angry Gazans.

Meanwhile, a crisis between Hamas and Fatah is delaying the opening of other border crossings, including Rafah, because these openings are conditional on PA personnel being stationed there. The crisis peaked last week when bombs were placed in the houses of some 10 senior Fatah officials. Hamas denied responsibility, but Fatah blamed Hamas' former interior minister, Fathi Hamad.

Over the last two days, the parties have held intensive talks in an effort to resolve their differences. They also asked Egypt to mediate, but Egypt seems in no rush to help.

On top of the slow pace of reconstruction and the intolerable bureaucracy, the crisis over paying employees of Gaza's former Hamas government is flaring up again. Last week, around 24,000 employees received a $1,200 advance, courtesy of Qatar.

But an additional 20,000, who are classified as members of the Hamas military, have been waiting for their salaries since June. This distinction between civilian and "military" workers has infuriated Gazans; next Tuesday a general strike is planned in the Strip.

The salary crisis, whose resolution was thwarted in June when Israel blocked the transfer of funds into Gaza for this purpose, played a major role in the outbreak of this summer's war. If no solution is found, and if Gaza's reconstruction continues to look like the goal is more to suffocate the people than enable them to lead normal lives, we can start counting the days until the next war.
-------------------------------------------------------------------------------------------------------------------------------------

UN chief: Gaza destruction 'beyond description,' worse than last war
Fifteen trucks carrying cement, 10 carrying iron and 50 carrying gravel enter the Strip.
By Barak Ravid and Jack Khoury Oct. 14, 2014
http://www.haaretz.com/news/diplomacy-defense/.premium-1.620698



United Nations chief Ban Ki-moon (C) visits a UN-run school
where Palestinians, whose houses were destroyed during a
seven-week Israeli offensive, take refuge in Gaza City
October 14, 2014. Photo by Reuters

United Nations Secretary-General Ban Ki-moon arrived in the Gaza Strip on Tuesday, in order to see for himself the extent of the damage caused there during the 50-day war with Israel to receive a report on preparations being made to begin reconstruction.

Ban also visited Israeli communities near the border with Gaza, and toured a Hamas tunnel uncovered by Israel during the fighting.

During his visit to the Strip, Ban lamented the vast destruction in Gaza as he visited the area on Tuesday for the first time since the war, calling the situation "beyond description" and urging a speedy reconstruction effort.

He also announced that Israel was permitting a first truckload of construction materials to enter the enclave, which has been blockaded by Israel and Egypt since before the conflict.

In a short visit under tight security, Ban toured areas that were heavily bombarded by Israel during the 50-day war, in which more than 2,100 Palestinians, most of them civilians, were killed. Sixty-seven Israeli soldiers and six civilians in Israel also died at the hands of Hamas rockets and other attacks.

"I am here with a heavy heart," Ban told a news conference. "The destruction which I have seen coming here is beyond description," he added, calling it much worse than what he had witnessed after the last war in 2008-9.

He also called on Israel and the Palestinians to return to the negotiating table to find a solution to the crucial issues, warning that violence would otherwise return to the region.

The news conference was held jointly with Deputy Palestinian Prime Minister Zayad Abu Amar.

Ban entered the Strip through the Erez checkpoint, and began his tour in the Shujaiyeh neighborhood, east of Gaza City, followed by the Jabalya refugee camp, where he saw first-hand the destruction in both places - and in particular in Shujaiyeh, which was almost completely demolished during this summer's fighting.

Ban visited a number of other sites, including the sea shore, where he spoke with a number of Gazan fishermen. He also visited facilities of the United Nations Relief and Works Agency for Palestine Refugees in the Near East (UNRWA) that were damaged during the war.

An estimated 20,000 homes were heavily damaged or destroyed in the fighting, while the territory's power station and other major pieces of infrastructure were hit. Contractors say it could take years to rebuild.

At a conference in Cairo on Sunday, international donors pledged a larger-than-expected $5.4 billion for Gaza's reconstruction, although a large portion of that money will go to support the Palestinian budget, not directly to rebuild homes and Gaza's infrastructure.

During his visit, Ban met with members of the Palestinian unity government that was formed following an agreement in April between the Palestinian Authority, led by Fatah, and Hamas, the Islamist militant group that dominates in Gaza.

Fifteen trucks carrying cement, 10 carrying iron and 50 carrying gravel entered the Strip on Tuesday. The construction materials are intended for private construction.

This is the first time such goods have entered Gaza since end of the recent round of hostilities. Palestinian Civil Affairs Minister Hussein al-Sheikh and Raid Fatuh, who heads the presidential commission for coordinating the entry of goods into Gaza, said they hoped this would be just the first step in reconstructing the Strip.

Under the agreement between the parties, UN employees in Gaza will oversee the use of the construction material and heavy equipment to be brought into the Strip to assure that they are not used to rebuild Hamas' tunnels or fortifications.

"The UN-brokered trilateral agreement on a temporary Gaza reconstruction mechanism has opened the door for much needed reconstruction, taking fully into account Israel's legitimate security concerns," Ban said, at the start of a two-day visit to the region. "I urge both sides to implement this mechanism in good faith."

With that, Ban stressed that rebuilding Gaza is not enough to change the Strip's difficult reality. He called on Israel to fundamentally change the conditions in Gaza by easing the blockade on the Strip, saying, "If conditions in Gaza simply revert to where they were before this escalation, the clock will be reset for more instability, underdevelopment and conflict."


At the UNRWA-operated Abu Haseen school in northern Gaza, July 30, 2014. Photo by AFP

Ban called on Israel to allow the orderly entry and exit of people and goods to and from the Strip, to encourage economic growth that would "change the dynamics on the ground and ultimately enhance stability in Gaza, which in turn will improve Israel's security."

He also stressed that "the sides must quickly return to the negotiation table with the readiness to make the tough but necessary compromises."

On the Israeli site of the border, Ban stopped by Kibbutz Nirim, and toured a Hamas tunnel that was uncovered By Israel in the area. He also met with the parents of Daniel Tragerman, a 4-year-old boy who was killed in a mortar shell attack on August 23. The UN chief reiterated his condemnation of rocket fire toward civilian areas and terror attacks carried out via tunnels.

Prime Minister Benjamin Netanyahu, in the presence of Ban in Jerusalem on Monday, condemned the United Nations on Monday for its conduct in Gaza during Operation Protective Edge. He defended the Israel Defense Forces' attacks on UN facilities during the operation, noting that Hamas had violated the neutrality of UN installations when it used them to fire rockets at Israel.

"When they found rockets in UN schools, UN officials returned them to Hamas, the same Hamas that fired the same rockets on Israeli cities and Israeli citizens," Netanyahu said.

A day after the international donors' conference in Cairo raised billions to rehabilitate the Gaza Strip, Ban arrived in Israel on Monday to discuss the reconstruction with senior Israeli government officials, saying it must begin without delay.

At Sunday's donor conference, Ban said the root causes of the summer's hostilities were "a restrictive occupation that has lasted almost half a century, the continued denial of Palestinian rights and the lack of tangible progress in peace negotiations."

Netanyahu, however, said Monday that the occupation was irrelevant. "The root cause of the violence that burst from Gaza is not Israel's occupation in Gaza, for a simple reason: Israel doesn't occupy Gaza," he told the UN chief. "The root cause of this summer's outburst of violence was Hamas's rocketing of Israeli cities."

Netanyahu did not mention the rehabilitation of Gaza in his remarks.

Before meeting with Netanyahu, Ban referred to the trilateral mechanism established by Israel, the Palestinian Authority and the United Nations to carry out the rehabilitation and oversee it from a security perspective.

Ban got a more positive message in his meeting with President Reuven Rivlin than he got from Netanyahu.

"The rehabilitation of Gaza is an Israeli interest as much as a Palestinian one," Rivlin said at the opening of their meeting. "Our Palestinian neighbors in Gaza are held captive by Hamas. They deserve safety and a better life."

Rivlin added that Israel is not "blind to the difficulties" faced by the residents of the Gaza Strip. However, he added, "The lifting of the restrictions can only take place after the Palestinian leadership, and the international community ... dismantle the terrorist capabilities of Hamas, and ensure that Israeli citizens will be able to live in safety."

---
Trauma surgeon Mads Gilbert will defy Israeli ban on Gaza entry
Norwegian has worked in Gaza for 15 years and will resist attempts at stopping him returning there
http://www.theguardian.com/world/2014/nov/15/mads-gilbert-surgeon-gaza-israel
Share 11048

Kate Shuttleworth
The Observer, Saturday 15 November 2014 17.37 GMT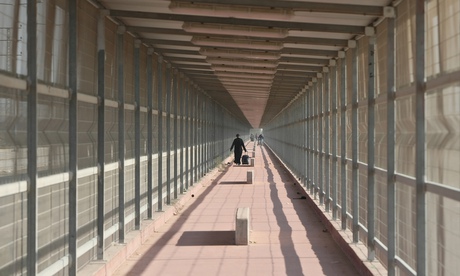 Israeli officials told Mads Gilbert that he was banned indefinitely when he tried to re-enter
Gaza via the Erez crossing last month. Photograph: Mahmud Hams/AFP/Getty Images

A Norwegian trauma surgeon and activist who helped provide life-saving medical care during this summer's 100-day war in Gaza has said he will defy an Israeli ban on his return.

Chief surgeon Mads Gilbert, 67, has spent 15 years treating patients in Gaza and spent 51 days in Shifa hospital earlier this year treating many of the 11,000 Palestinians who were wounded in the war between Hamas and Israel.

When he returned last month to try and enter Gaza via the Erez crossing in Israel he was denied entry indefinitely.

The Israeli government now says Gilbert is banned from entering Gaza for security reasons. The Norwegian embassy in Tel Aviv has taken up Gilbert's case on his behalf after he was refused entry in October.

"When we came back to the Erez border station the Israeli soldiers told me I was not allowed to go into Gaza," he told media.

"I had a valid permit for multiple entries, an invitation from the Palestinian Ministry of Health and a recommendation from the director at my hospital."

In a written statement, Norway's Secretary of State, Bard Glad Pedersen, said: "From the Norwegian perspective, we have raised Gilbert's exclusion from Gaza and asked Israel to change their decision. The humanitarian situation is still difficult and there is a need for all health workers."

Norwegian authorities confirmed Gilbert had been banned "indefinitely" by Israel.

Gilbert is a vocal critic of the Israeli occupation of Palestinian territories and the blockade on the Gaza Strip. Photos and television footage of Gilbert in his light green surgical wear in Gaza's Shifa hospital treating Gazans wounded and dying were broadcast internationally and often daily during the course of the war between Hamas and Israel.

He vowed he would fight any restrictions placed on his movements by Israel.

"I have never violated Israeli law, never been arrested and never lied."

In July Gilbert wrote a statement from Shifa hospital at the height of the fighting that was published widely. He described in graphic detail people that had been "maimed and torn apart".

He described the patients he treated as being innocent civilians. "We still have lakes of blood on the floor in the emergency room, piles of dripping blood soaked bandages to clear out. Cleaners are everywhere swiftly shoveling the blood and discarded tissues, hair, clothes, cannulas, and the leftovers from death – all taken away to be prepared again to be repeated all over."

He called on readers to force Israeli to stop its attacks on Gaza. Dr Gilbert gave a similar account during live television interviews.

Gilbert is defiant in responding to the ban and resolved to make a return to Gaza in the near future.

"It is completely unacceptable to restrict the movement of humanitarian personnel – much needed in Gaza now after the last bombardment," he said.

"I will not be stopped from returning to Gaza to do medical work. There are different attempts going on to conceal the reality on the ground for the good people of Gaza – this is one of them – and we must persist in resisting attempts to shutdown Gaza from the world.

"The first precondition for the recent ceasefire was to ease the siege," he said. "It has not been eased. This attempt to stop medical personnel entering Gaza is a tightening of the siege – this, again, is totally unacceptable."

During the war, Gilbert charged that Israel was committing "state terrorism at the highest levels".

An Israeli foreign ministry spokesman, Paul Hirschson, replied Dr Gilbert was "not on the side of decency and peace and he's got a horrible track record. I wouldn't be surprised if his acquaintances are among the worst people in the world."

During Israel's 51-day military operation in Gaza over 2,000 Palestinians were killed – mostly civilians, and 70 Israelis were killed, mostly soldiers. A ceasefire deal was struck at the end of August to bring an end to fighting. Dr Gilbert said the agreement had not been upheld and called his ban on entering Gaza as further evidence a blockade on the coastal enclave was no closer.
---------------------------------------------------------------------------------------------------------
The IDF and Shin Bet, where falsehood is the faith and evil is conscience
http://www.haaretz.com/opinion/.premium-1.626603
By Gideon Levy | Nov. 16, 2014
The fact that Israel is foucusing now on the January warning does not change its responsiblity fro what is happening in Gaza
Shin Bet head Yoram Cohen. Photo by Tomer Appelbaum
Look who's talking, and about what: The chief of staff of the Israel Defense Forces and the head of the Shin Bet security service are talking about "morals" and "ethics." It's like a slaughterhouse boss who dares to talk about animal rights, a prison warden who talks about freedom or the CEO of a cigarette company who talks about health. It briefly seemed as if Israel had finally woken up to hold a real debate on this summer's war in the Gaza Strip. After all, Chief of Staff Benny Gantz wrote in his letter to Prime Minister Benjamin Netanyahu about a "moral and ethical fault" and about the Shin Bet's having "crossed all moral and ethical lines." But this sanctimonious poesy was of course devoted to the ridiculous pissing contest over the Gaza war between Gantz and Shin Bet chief Yoram Cohen, two manly men. A generals' war always erupts when it becomes clear that the victory was not a victory and the accomplishments were not accomplishments. From this aspect, the mutual recriminations have some value.
But the main thing about this little storm is that, like most brief storms in Israel, it dealt with the superficial, the marginal, the unimportant. These scandals are usually intended to obscure reality and evade the truly disturbing questions. Did the Shin Bet in fact issue a warning in January about a possible Hamas-initiated war? Nu, really? We don't need the Shin Bet in order to know Gaza would not stay quiet forever under its blockade, and we don't need Military Intelligence to recognize that no one planned the timing of this war. But when the commander of the military accuses the head of the Shin Bet of a lack of morals, it is worth listening to the inherent contradiction in his words.
Gantz and Cohen are not in a situation where they are capable of (or permitted to) speak about morality and honesty, even if personally they are impeccably straight and honest. They head two organizations in which falsehood is the faith and evil is the conscience. As sophisticated and successful as they may be, their respective organizations have no connection to principles. It cannot be otherwise in the current circumstances. Both of them are responsible, for example, for the crimes committed in the Gaza Strip, after which it is impossible to speak of morality. Every decent person who returned from Gaza after Operation Protective Edge — I met dozens of foreigners who did so — was rocked to their very core by what they saw there. Every one of them felt it was an even more vicious and brutal version of Operation Cast Lead, which we thought would never happen again. They can share this dubious credit however they want, Gantz and Cohen were the military leaders. The hundreds who died in vain, the destruction, the terror and the hatred that was sown — all of it listed in their names. The fact that no one in Israel is disturbed by this does not in any way diminish the depth of the horror. The fact that Israel is focusing now on the January warning does not change its responsibility for what is happening in Gaza, which has been abandoned to its suffering.
It is only right that this duo finds it hard to speak about honesty. A significant part of the Shin Bet's work is built on lies, mountains upon mountains of lies — told mostly to Arabs, but who's keeping count, and who could tell? When an important part of an organization's work is based on building a rotten network of collaborators, which depends on lies and false promises and lies, that organization cannot speak of truth.
The IDF also knows how to lie, does it ever. In May the IDF Spokesman determined that in the Nakba Day incidents in Beitunia the army did not use live fire. So he decided. Half a year later the lie was exposed, but not before senior defense officials, including the defense minister himself, claimed the incriminating video clips were "fabricated" and "edited." The lie was exposed only because it was documented, unlike many other lies that were not recorded. It was not exceptional in the territories, even if the military correspondent on television said "The IDF investigation is a sacred value."
Gantz and Cohen are not dealing with all this. Nor are the government or the media. Don't disturb them: They're busy listening to news about the latest Israeli scandals.
**********************************************************************************

APJP
|

Post a Comment
|