Monday, January 24, 2011 at 04:16PM
24 January 2011
http://www.guardian.co.uk/news/datablog/2011/jan/24/palestine-papers-settlements-israel-map-list?intcmp=239
The Palestine Papers identify land and settlements for potential swaps. See where they are
• Get the data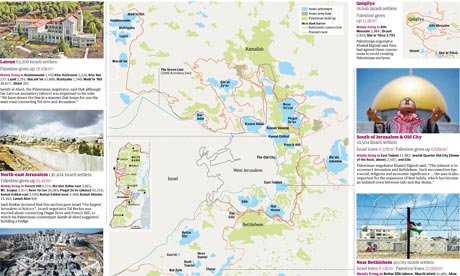 Palestine papers: the settlements under discussion. Click image for full graphic
The Palestine Papers have set the news agenda for today with details emerging of how Palestinian negotiators agreed to Israel annexing all but one of the settlements built illegally in occupied East Jerusalem.
Al Jazeera and the Guardian have shared access to thousands of documents in the biggest ever leak over the Middle East peace talks. You can see an interactive guide to them here.
As reported today, the Israeli negotiator Tzipi Livni is recorded as dismissing the offer out of hand because the Palestinians had refused to concede Har Homa, as well as the settlements at Ma'ale Adumim, near Jerusalem, and Ariel, deeper in the West Bank. Israel's position was fully supported by the Bush administration.
We've extracted the key data for you from this document - which outlines the places Palestinian negotiators were willing to negotiate over. Our map (shown above) is based on a background image from B'Tselem, which produces incredibly detailed maps of the area - the same map seems to have been used in the leaked document.
A Google Fusion tables map of the areas shows how they are in the most hotly-contested part of the region - although Fusion tables does not appear to have any roads or town names for Israel. There's a much more useful version produced by Al Jazeera here.
The key data appears to be that:
• Israel and Palestine would swap 119 square KM
• 56,000 settlers (12%) would be evacuated, leaving 413,000 (88%) in situ
The full data is below. What can you do with it?
Data summary
• DATA: download the full spreadsheet


APJP
|

Post a Comment
|