Monday, July 21, 2014 at 09:44PM
http://www.theguardian.com/world/2014/jul/21/gaza-crisis-unsc-and-obama-call-for-immediate-ceasefire-live-updates
21 July 2014 The Guardian
BREAKING NEWS: The number of people seeking refuge with UNRWA in #Gaza has exceeded 100,000. We have opened 69 shelters RT: Chris Gunness of UNRWA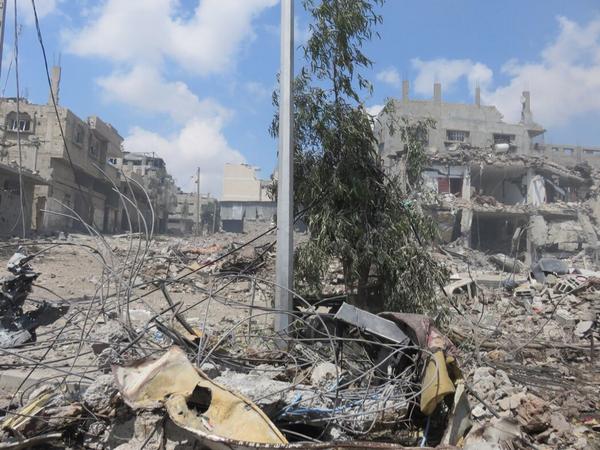 At least five killed in attack on al-Aqsa hospital
Five now confirmed dead in the shelling of Gaza's al-Aqsa hospital, write the Guardian's Harriet Sherwood, Peter Beaumont and Ian Black:
Five people were killed and 70 wounded, including about 30 medics, according to Gaza health officials. Ambulances tried to evacuate patients but were forced to turn back by continued shelling. Israel has claimed that Hamas hides weapons in hospitals.

Further south, in Khan Younis, an extended family was wiped out in an air strike on a house. The number of dead was put at between 24 and 28. The Palestinian Centre for Human Rights said another 10 people were killed in a single air strike in Rafah, including four young children and a baby.
Obama adds to international pressure on Israel
Dozens killed in single attack as death toll tops 550
Kerry's slip: 'it's a hell of a pinpoint operation'
Seven Israeli soldiers killed 'in the past 24 hours'
• Seven IDF soldiers have been killed 'in the past 24 hours,' the Israeli military confirmed. This as 13 Israeli soldiers were killed on Sunday. So far, 25 Israeli soldiers have been killed in Operation Protective Edge
• More than 550 people have been killed in Gaza, with more than 3,350 wounded, according to the Ministry of Health's latest numbers.
• At least four people were killed when the al-Aqsa hospital was shelled in central Gaza, without warning according to officials. It is the fourth hospital to be hit since Israel launched an offensive. Gaza's health ministry appealed to the UN and other agencies to urge Israel to stop targeting medical facilities.
• UNRWA said the number of people seeking refuge in Gaza has risen above 100,000. The UN Security Council has expressed concern at the escalation of violence in Gaza and called for an immediate ceasefire.
• Hamas' top leader in Gaza Ismail Haniyeh said his group's aim was to end the seven-year-old blockade of Gaza.
• President Obama expressed "serious concern" over the number of civilian casualties in the Gaza strip.
• The US State Department has confirmed that two American citizens were among the soldiers killed fighting for Israel over the weekend. It named them as Max Steinberg of California and Nissim Carmeli of Texas.
The Palestinian Ministry of Health has warned of an impending "environmental disaster" if Israel continues to block Gaza paramedics from retrieving bodies of the deceased in the Shujai'iya neighborhood:
The head of operations in the Middle East for the International Committee of the Red Cross has condemned "in the strongest terms" the shelling of the al-Aqsa hospital earlier today.
Many people remain in areas affected by hostilities, including the sick and wounded in need of medical care #Gaza
"They say, it is true that we are dying but our death has a meaning now," Haithem Fathi, a college student in Gaza tells the Guardian'sMona Mahmood (@monamood):
The Israeli tanks have not advanced into our district yet, but we can see the rockets raining down on surrounding districts. I live in Muhrart Muraj, it is between Gaza's centre and the sea. It was an Israeli settlement before the war in 2008, mainly filled with farms of olive and lemon groves that are under Israeli army fire now.

We expect the Israeli tanks to advance to our district soon, but we're determine to remain at home whatever the circumstances. ... We bring food to many houses in our district every two days to spare people the risky trip. It is great that the traders did not raise the prices during the war. Talking to people today they are optimistic of an imminent victory. We were dying slowly before the war, because of the tough embargo imposed on Gaza and the blockade of all the crossings. My grandmother is ill with cancer but she could not go to Jerusalem for treatment and there is no medication in Gaza either. She is dying in her bed slowly.

People are glad that the resistance is demanding access to one of the ports to break the embargo on Gaza. We have been suffering a great deal for eight years and we can not stand it any longer.

Hamas' top leader in Gaza, Ismail Haniyeh, said on Monday that his group will not be shifting its position, adding the aim of the current battle is to break the seven-year-old blockade imposed by Israel and Egypt in 2007. Hamas has been driven into a deeper financial crisis since Egypt began further tightening restrictions over the past year.

Haniyeh said in a televised speech that "we cannot go back, we cannot go back to the silent death" of the blockade, the AP reports. He said all of Gaza's 1.7 million residents shared this demand.

Gaza has decided to end the blockade by its blood and by its courage," he said. "This siege, this unjust siege, must be lifted."

#Israeli military says 25 soldiers have been killed since #gaza ground invasion began 4 days ago. In the 3 week 2008 war it lost 6 soldiers.

Adnan Abdul Rahman, a resident of Rafah, tells the Guardian'sMona Mahmood (@monamood) about the situation in Gaza on Monday:

Our neighbourhood in the Rafah district in Gaza has endured colossal damage within the last few days. The Israeli army is shelling the district intensely day and night since the outbreak of the war. ... The majority of the people have abandoned the district, thinking they might be safer elsewhere, but in fact there is no safe haven anywhere in Gaza. I'm staying by myself at home, my family could not cope any longer with the nonstop shelling, falling on us like heavy rain. Some of my family members are hiding in schools, others are with some relatives. I decided to stay at home to guard the house and patrol the neighbourhood.

My father was discharged from the hospital with my brother today. They were at home when shells hit, penetrating the walls and injuring them in different parts of their bodies. My father was hit in his head and hands, my 8 year-old brother was hit in his arms. Our main problem is that the Israeli army is killing the children – most of the victims of this war are children. There was a three-hour ceasefire today and I rushed to buy a few things from the market. ... There was not that much food product in the market but I was able to find a few basic things. The shopkeeper was selling only a kilo of each product, to allow as many people as possible to buy some as the quantity was limited.

Despite the high death tolls, Adnan tells Mona morale is high, with news of the reported kidnap of an Israeli soldier:

We believe that the resistance is winning. I know we have made lots of sacrifices but our land deserves [these sacrifices] and I'm ready to be a martyr at any moment."

_________________________________________________________

http://www.theguardian.com/world/2014/jul/20/israeli-attack-suburb-gaza-city-palestinians-shujaiiya

Israel kills scores in Gaza City suburb in deadliest assault of offensive so far

Special dispatch: Peter Beaumont reports from Shujai'iya where fleeing and injured tell of streets strewn with bodies and rubble.

20 July 2014 The Guardian
Al-Beltaji Street, off the main road in Shujai'iya, is a scene of utter devastation – the site of Israel's bloodiest assault in almost two weeks of fighting in the coastal strip.

An ambulance sat on shot-out tyres, shrapnel punched through its sides. A charred car lay flattened as if by a giant hand. Smoke rose from one end of the street in a dark billowing curtain.

Fallen trees, tangled electricity cables and drifts of rubble covered the road, smashed, chopped and torn apart by Israeli shells and bombs that slammed into this Gaza City district at a rate of one every five seconds on Saturday night and the early hours of Sunday.

A body was carried out of a ruined house, then a second and a third – seven in total from buildings within a hundred metres of each other during a brief agreed lull in the fighting to evacuate the dead and wounded. A little further along, bodies lay in the street where they had fallen, mostly scorched figures – one still in a yellow dressing gown – others missing limbs.

"Come out it's safe," rescue officials shouted as they picked their way along the street.

At least 67 people – some fighters but many civilians – were killed in a night of intense violence in Shujai'iya that has been described by the Palestinian president, Mahmoud Abbas, as a massacre. Hundreds more were injured.

At the far end of the street, a family emerged running, led by a man cradling a child. Slowed at times by the rubble, their faces, stunned by fear, were deaf to questions, focused only on reaching the road leading to the relative safety of Gaza's City centre.

Raed Zaqtout fled at 10am on Sunday morning, but returned with his brother in the midst of a two-hour humanitarian ceasefire organised by the Red Cross to retrieve the dead and the injured. The ceasefire only lasted an hour.

"We stayed in the house while they were shelling. Two other families came to shelter with us. In the morning we decided to escape along that lane," he said, pointing to an opening opposite. "Even then some of us were injured, thankfully only lightly, by shrapnel."

Both sides have accused the other of breaking the ceasefire. An Israeli military spokesman conceded that during the brief initial pause in fire, Israeli forces had continued firing in an adjacent neighbourhood – an area, he claimed, that was not covered by the truce. Nonetheless, it is that Israeli fire that appeared to have hastened the Hamas fighters' return to hostilities.

As the regular thud of explosions resumed, three Palestinian fighters – carrying AK-47s, and with their faces wrapped in scarves – jogged along the street. Other militants were seen sheltering in the buildings. Shujai'iya residents said the heavy shelling began around midnight as tanks and soldiers reached the edge of their neighbourhood – a fierce gun battle followed.

In the first hours of shelling, it was too dangerous for ambulances to approach – residents were faced with a choice: stay and risk being killed while sheltering at home, or make a run for it and risk being caught in the crossfire.

Those who decided to flee started moving at dawn, when Shujai'iya was still under heavy Israeli tank and mortar fire. They hurried past the corpses in the street, some carried their frightened children, most with only the clothes they had escaped in – several barefoot.

Among the 30,000 who fled were Sabreen Hattad, 34, and her three children.

"The Israeli shells were hitting the house. We stayed the night because we were so scared but at about 6am, we decided to escape.

"But where are we supposed to go? The ambulances could not enter and so we ran under shell fire."

Three men rushed past, clutching bedding. Asked what they had seen they replied only: "Death and horror." The sound of small-arms fire rattled from the direction they had come.

Many of those who fled Shujai'iya headed for Gaza City's Shifa hospital, which was engulfed in chaos. Ambulances that had finally and briefly been given access to the site of the carnage sped in steadily, ferrying the dead – among them a local TV cameraman, Khaled Hamad, who was killed during the overnight offensive alongside a paramedic.

At the morgue, dozens crowded the entrance demanding to be let in to look for missing relatives – and too often found them.

Inside the hospital, the staff put mattresses on floors to accommodate the injured, while other patients were evacuated. Nurses carefully placed Aish Ijla, 38, on a mattress in a corridor. His leg had been broken by shrapnel.

"When the shells started we couldn't leave the house – 30 of us. The shells were hitting the upper floor so we all moved downstairs. Then the shrapnel started hitting our door.

"It became quiet for a moment and we decided we should run. But as we were on the road a shell landed near me, breaking my leg. I told my family to go on with out me. I carried on – stopping, then limping. Two hours later, an ambulance reached me ."

Arye Shalicar, a spokesman for the Israeli military, told the Guardian that Shujai'iya was a "frontline base" for Hamas fighters: "140 rockets have been launched from there in the last week and a half alone. And [there are] not only rockets but tunnels.

"We asked the population to evacuate to other neighbourhoods. If we were not bothered about civilians we would have just bombed from the air rather than sending in tanks and soldiers, dozens of whom have been wounded."

Hamas fighters may be based in Shujai'iya and rockets fired from its streets, but it is also the most densely populated residential neighbourhood in Gaza City. Many homes have been targeted.

The injured were still being brought to Shifa hospital on Sunday evening. Two young girls arrived, one with a bleeding head wound, another with her teeth smashed out, covered in dust. Another man had lost most of his face.

Naser Tattar, the hospital's director, said at least 17 children, 14 women and four elderly were among the 67 killed in the Israeli assault. About 400 more were wounded. The medical director, Dr Mohammad El Ron, stood in the casualty department, exhausted: "Most of the casualties brought in so far have been dead."

------------------------------------------------------------------------------------------------

APJP
|

Post a Comment
|