Sunday, August 24, 2014 at 09:00PM
http://electronicintifada.net/blogs/ali-abunimah/gazas-911-israel-destroys-high-rise-building-gaza-video
Submitted by
Ali Abunimah
on Sat, 23 August 2014/2014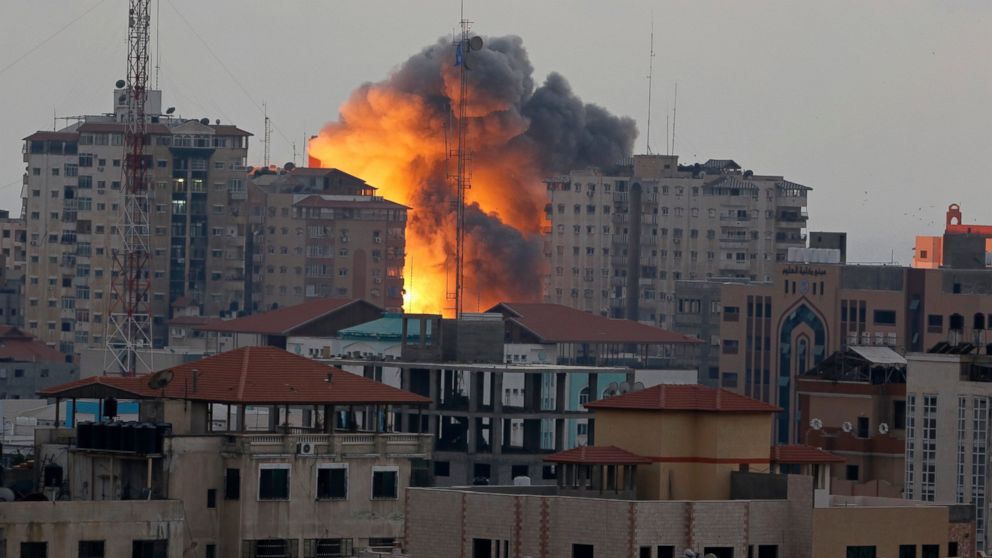 A ball of fire rises from an explosion on al-Zafer apartment tower following an Israeli air strike in Gaza City, in the northern Gaza Strip, Aug. 23, 2014. Adel Hana/AP Photo
In what many Palestinians are calling "Gaza's 9/11," Israeli warplanes today destroyed the 12-story "Zafir 4" residential tower in Gaza City's Tal al-Hawa neighborhood.
This video captures the moment. It appears that the building was struck by two missiles.The tower was part of the Zafir complex and housed almost fifty families. Residents had reportedly received warnings to leave the building, but medical officials said 17 people were injured, four of them children.
At least ten Palestinians were killed in relentless Israeli airstrikes across the Gaza Strip on Saturday, mostly women and children, Ma'an News Agency reported.Human rights groups have condemned Israel's deliberate targeting of civilian homes and infrastructure, but amid international complicity and silence, it has continued the practice unabated.
At least 2,103 (now 2120 Ed.) Palestinians have been killed in Israeli attacks since 7 July, Ma'an said.
125 "9/11s"
The social media use of the term "Gaza's 9/11" to describe today's tower destruction is a reference to the 11 September 2001 attacks that destroyed New York City's Twin Towers.
But the overall death toll in Gaza since Israel's bombardment began on 7 July proportionately far exceeds those attacks.
Nearly three thousand people died in the 11 September attacks.
If Israel's attacks on Gaza had been on the United States, it would be the equivalent of about 375,000 American deaths. That means Gaza has experienced about 125 "9/11s" since 7 July. This is hardly surprising, since Israel has dropped the equivalent of an atomic bomb on Gaza.
Building housed Fatah officials
Israel has claimed that the building that was home to hundreds of people "was a center of terror activity, and housed several Hamas operation rooms." It presented no evidence to support these claims.
But according to Dr. Ramy Abdu, chair of the independent group Euro-Mid Observer for Human Rights, in addition to housing many ordinary people, the Zafar 4 tower was also home to several senior Fatah officials.
Fatah is the faction headed by Palestinian Authority de facto leader Mahmoud Abbas who is in de facto alliance with Israel through the PA's so-called "security coordination" with the Israeli occupation army in the West Bank.
The officials who lived in the building included Ibrahim Abu al-Naja, a senior Fatah leader in Gaza; Nazmi Muhanna, a Fatah leader and the head of the border crossings administration for the PA; and Rawhi Fattouh a former advisor to Mahmous Abbas.
------------------------------------------------------------------------------------------------------------------------------------
http://www.nst.com.my/node/26290
from New Strait Times
24 AUGUST 2014 @ 2:37 PM
GAZA CITY, Gaza Strip (AP) — Israeli airstrikes leveled a seven-floor office building and severely damaged a two-story shopping center in the Gaza Strip early Sunday, signaling a new escalation in seven weeks of fighting with Hamas.
The strikes in the southern town of Rafah came just hours after Israel bombed an apartment tower in Gaza City, collapsing the 12-story building with 44 apartments.
The targeting of large buildings appears to be part of a new military tactic by Israel. Over the weekend, the army began warning Gaza residents in automated phone calls that it would target buildings harboring "terrorist infrastructure" and that they should stay away.
A senior military official confirmed that Israel has a policy of striking at buildings containing Hamas operational centers or those from which military activities are launched. The official said each strike required prior approval from military lawyers and is carried out only after the local population is warned.
However, he said, there was now a widening of locations that the military can target. The official spoke on condition of anonymity because he was not permitted to discuss the matter with reporters.
Meanwhile, Gaza militants continued to fire rockets and mortar shells at Israel, including at least 10 on Sunday, the military said. That was in addition to more than 100 on Saturday, most aimed at southern Israel.
Elsewhere, five rockets were fired from Syria and fell in open areas in northern Israel. It was not immediately clear whether they were fired by pro-government forces or rebel groups.
Amid persistent violence, Egypt has urged Israel and the Palestinians to resume indirect talks in Cairo on a durable cease-fire, but stopped short of issuing invitations.
Several rounds of indirect talks between Israel and Hamas have collapsed, along with temporary cease-fires that accompanied them. The gaps between Israel and the Islamic militant group on a new border deal for blockaded Gaza remain vast, and there's no sign either is willing to budge.
The Israeli military said it had carried out some 20 strikes on Gaza since midnight Saturday.
In Rafah, Israeli aircraft bombed the seven-story Zourab building, which houses an office of the Hamas-run Interior Ministry. Witnesses said the building was leveled and that the strikes caused severe damage to nearby shops, homes and cars.
Another strike hit a nearby shopping center with dozens of shops, sparking a fire that gutted the two-story building. After daybreak Sunday, smoke was still rising from the site as shop owners inspected the damage. Windows and doors had been blown out in nearby buildings.
The military said the two buildings were attacked because they housed facilities linked to militants, but did not provide details. The Gaza City apartment tower toppled Saturday was targeted because a Hamas command center operated from there, the army said.
Palestinian health official Ashraf Al Kidra said two people were killed in a pair of airstrikes near a coastal road on Sunday, including one on a group of people coming out of a mosque after morning prayers. Two more fatalities were registered when a motorcycle following a car evacuating the wounded from the strikes was targeted.
The U.N. estimates that more than 17,000 homes have been destroyed or damaged beyond repair since the war began on July 8. In some of the attacks, family homes with three or four floors were pulverized.
However, the weekend strikes marked the first time large buildings were toppled.
Since the fighting began, Israel has launched some 5,000 airstrikes at Gaza, while Gaza militants have fired close to 4,000 rockets and mortars, according to the Israeli military.
More than 2,100 Palestinians, including close to 500 children, have been killed, according to Palestinian health officials and U.N. figures. Israel has lost 64 soldiers and four civilians.
Israel says it is targeting sites linked to militants, including rocket launchers, command centers and weapons depots. The U.N. says about three-fourths of the Palestinians killed have been civilians.
Enav reported from Jerusalem.
--------------------------------------------------------------------------------------------------------------------------------
http://electronicintifada.net/blogs/ali-abunimah/how-many-bombs-has-israel-dropped-gaza
How many bombs has Israel dropped on Gaza?
By Ali Abunumah 19 August 2014 The Electronic Intifada
Palestinians look at an unexploded Israeli missile, which witnesses said was fired by an Israeli aircraft on a street in Khuzaa, east of Khan Younis, in the southern Gaza Strip, 3 August. (Ramadan El-Agha / APA images)
A few days before he was killed trying to disarm an unexploded Israeli missile, Hazem Abu Murad, the head of Gaza's bomb squad, estimated that Israel had dropped between eighteen to twenty thousand tons of explosives on Gaza since 7 July.
As I write, Israel has resumed its heavy bombardment after a nine-day truce ended without a long-term ceasefire agreement.
If Abu Murad's estimate is right, then the explosive power Israel has fired on Gaza by land, sea and air so far is roughly equivalent to one of the atomic bombs the United States dropped on Japan in August 1945.
The bomb dropped on Hiroshima was rated at 13 kilotons – the equivalent of thirteen thousand tons of high-explosive TNT – while the bomb dropped on Nagasaki was rated at 21 kilotons.
Abu Murad, who died along with five other people on 13 August, estimated that about one thousand tons of unexploded munitions remained. There are more than 1,900 people killed in the ongoing Israeli assault – that is more than one out of every thousand of Gaza's nearly 1.8 million residents.
Israel constantly publishes claims about how many mortar shells or rockets have been fired from Gaza – it claims for instance that 3,360 rockets were fired from Gazabetween 8 July and 6 August.
It is well known that the rockets have caused minimal damage and casualties, and most fall in so-called "open areas."
But even the number, which is supposed to sound impressive and justify the attack on Gaza, is actually minuscule compared with the volume of ordnance Israel fires into Gaza.
Estimates based on partial information from Israeli sources indicate that Israel has fired tens of thousands of artillery shells into Gaza and dropped a bare minimum of six thousand tons of bombs from the air. Abu Murad's on-the-ground estimate is certainly plausible.
And the evidence suggests that contrary to Israeli official propaganda about the care taken to protect civilians, the vast majority of Israeli munitions are inaccurate and indiscriminate in the context of densely-populated areas where they have been widely used in Gaza.
This probably explains why Israel is so coy about publicizing the number of missiles, bombs and shells it fires at Gaza.
Massive damage
What is not in doubt – given the vast scale of killing and destruction inflicted in Gaza,as documented in UN satellite images – is that it is indeed an enormous number.
Detail from UN satellite imagery showing total destruction of buildings in Khuzaa, Gaza Strip. (UNOSAT)
In one of the most severely hit areas, Khuzaa and al-Qarara in the southeastern Gaza Strip, the UN counted 2,493 destroyed structures, 1,243 severely damaged structures and 2,014 impact craters.
The Israeli military itself states that between 8 July and 5 August, "aerial, naval and ground forces struck 4,762 terror sites across the Gaza Strip."
Of course we know that Israel defines everything it bombs as a "terror site," so this number includes thousands of civilian homes, mosques, businesses and othercivilian objects and infrastructure.
We also know that Israeli munitions factories were "working in shifts, 24 hours a day" to provide enough ammunition and shells to forces attacking Gaza.
During the attack, the Obama administration also replenished Israeli stocks from a one billion dollar weapons stockpile the US keeps in Israel. This included 120 mm mortar rounds and 40 mm grenades.
A Palestinian boy surveys the destruction caused by Israeli airstrikes in Beit Hanoun in the northern Gaza Strip, 12 August.
(Mohammed Asad / APA images)
Israeli sources provide some information that allows us to generate a more accurate picture of the quantity of explosives Israel fired, and why their impact was so lethal and indiscriminate.

APJP
|

Post a Comment
|