Thursday, December 19, 2013 at 11:31PM
The Negev Bedouin from BIMKOM
http://bimkom.org.il/eng/the-negev-bedouin/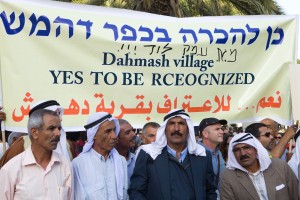 There are some 160,000 Bedouin living in the Negev. This population has long suffered from discriminatory policies, particularly in matters pertaining to land, planning and development, which severely affect their living conditions and rights to adequate housing, health, education and employment.
About half of the Bedouin live in seven townships. The other half lives in 46 villages, of which only 11 have been recognized by the State.
Since 1999 Bimkom has been working in both recognized and unrecognized villages.
Recognition removes the threat of forced transferal and is a critical and necessary condition for any improvement in the situation of these villages. However, recognition is only the first step: The living conditions in the villages that have been recognized remain nearly as harsh as they were prior to their recognition. Basic outline plans for the villages have been prepared, however their directives are almost un-implementable.
Even in recognized villages residents cannot obtain building permits, and construction is considered illegal (including long-standing buildings and necessary services) . Infrastructure and services for basic needs are either altogether absent or substandard. Public services are severely lacking: the number of schools and classrooms is insufficient, there are very few kindergartens, despite the large number of young children in these communities, thus hampering women's ability to work; and there are very few medical clinics.
Bimkom's Intervention
Bimkom's initiative to promote recognition, adequate planning and development of Bedouin villages in the Negev seeks to advance the rights of residents to adequate housing and living conditions in line with their culture, as well as opportunities for economic development.
This initiative involves:
Practical assistance to local Bedouin communities such as Kasr el Ser,Lakia, Darejat, Molada and more. We advance planning solutions to specific development problems. We promote plans which seek to answer their communities' critical needs, and allow for the legalization of existing homes. Such plans can provide protection from the threat of demolition and enable the connection to vital infrastructure and services as well as providing for future development.
Advancement of an alternative Master Plan for the Negev Bedouin: Bimkom, together with the Regional Council for the Unrecognized Villages (RCUV) has prepared a suggested Master Plan which offers practical solutions for recognizing and planning all the Bedouin villages. Bimkom lobbies for the acceptance of this plan or parts thereof in place of the government's "Praver Plan" which threatens to uproot up to 70,000 Bedouin from their villages.
The creation of the first-of–its-kind comprehensive research into the causes that bar implementation of approved plans and development in formally recognized Bedouin villages. The report will provide decision makers, professionals and the Bedouin themselves with the knowledge and tools necessary to advance development, including building permits, infrastructure and services. To read more about our work in Bedouin recognized villages, click here
Intensive capacity building assistance to the Bedouin so that they will be able to negotiate with the authorities in the long-term.
Advocacy and awareness raising among decision makers and planning professionals.
**********************************************************************************
The Alternative Master Plan for all the Unrecognized Villages in the Negev (AMP) which Bimkom drafted together with the Regional Council for Unrecognized Villages and Sidre, a Bedouin women's empowerment organization.
http://bimkom.org/eng/the-alternative-master-plan-for-bedouin-villages-in-the-negev/
For more than 60 years, about half of the Bedouin population in the Negev has lived in acute deprivation, without basic services including electricity, water and roads, and with neither local government nor recognition of their villages.The overall goal of this Alternative Master Plan (AMP) is to present a diverse and agreed planning solution based on the existing Bedouin settlements, which would be integrated in the overall planning of the Beersheva metropolitan area. Such a plan would provide a basis for a viable development of the region, as a whole, while maintaining the principles of equality, recognition and justice.
For more information, read the English summary of the AMP: AMP English

APJP
|

2 Comments
|